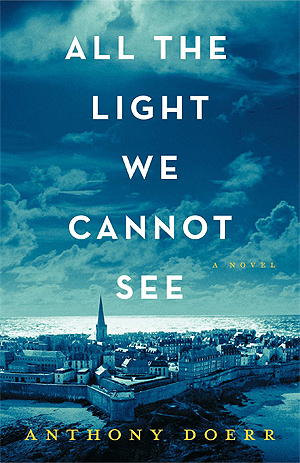 Hardback: 514 pages
Genre: Literary Fiction
Publisher: Scribner 2014
Source: Tywyn Public Library
First Sentences: At dusk they pour from the sky. They blow across the ramparts, turn cartwheels over rooftops, flutter into the ravines between houses.
Favourite Quote:
"Open your eyes and see what you can with them before they close forever."
Review Quote:
'Doerr can bring a scene to life in a single paragraph … Delicate and moving … the novel takes hold and will not easily let go' The Times
Literary Awards: 2015
Pulitzer Prize for Fiction and the 2015 Andrew Carnegie Medal for Excellence in Fiction.
Setting: Paris, France. St Malo, France and Zollverein, Germany.
Main Characters: Werner Pfennig, Marie-Laure LeBlanc

My Opinion:
I enjoyed this and am pleased it was a Book Club choice as I had not read any of this author's work before and may well never have picked this myself. This WWII novel is
definitely
one that has had a lasting impact on this particular reader. Surprising myself how much of the story was still lingering in my mind despite having read it sometime ago. This story reminded me of the power of radio, especially to those of unfortunate not to have the gift of sight, heart breaking. An incredibly moving novel that once started is impossible to put down, highly
recommended beautifully
,
written prose
balancing
historical fact with the fictional story of a cursed
diamond
Précis Courtesy of Goodreads:
Winner of the Pulitzer Prize, a New York Times Book Review Top Ten Book, National Book Award finalist, more than two and a half years on the New York Times bestseller list

From the highly acclaimed, multiple award-winning Anthony Doerr, the stunningly beautiful instant New York Times bestseller about a blind French girl and a German boy whose paths collide in occupied France as both try to survive the devastation of World War II.

Marie-Laure lives in Paris near the Museum of Natural History, where her father works. When she is twelve, the Nazis occupy Paris and father and daughter flee to the walled citadel of Saint-Malo, where Marie-Laure's reclusive great uncle lives in a tall house by the sea. With them they carry what might be the museum's most valuable and dangerous jewel.

In a mining town in Germany, Werner Pfennig, an orphan, grows up with his younger sister, enchanted by a crude radio they find that brings them news and stories from places they have never seen or imagined. Werner becomes an expert at building and fixing these crucial new instruments and is enlisted to use his talent to track down the resistance. Deftly interweaving the lives of Marie-Laure and Werner, Doerr illuminates the ways, against all odds, people try to be good to one another.

Doerr's "stunning sense of physical detail and gorgeous metaphors" (San Francisco Chronicle) are dazzling. Ten years in the writing, a National Book Award finalist, All the Light We Cannot See is a magnificent, deeply moving novel from a writer "whose sentences never fail to thrill" (Los Angeles Times).




Video Trailer for 'All The Light We Cannot See' Courtesy of YouTube



Author Profile
PHOTO © BY ULF ANDERSEN
Anthony Doerr is the author of five books, The Shell Collector , About Grace , Memory Wall , Four Seasons in Rome and All the Light We Cannot See . Doerr's fiction has won four O. Henry Prizes and has been anthologized in The Best American Short Stories, The Anchor Book of New American Short Stories, and The Scribner Anthology of Contemporary Fiction. He has won the Barnes & Noble Discover Prize, the Rome Prize, the Story Prize, the New York Public Library's Young Lions Fiction Award, a Guggenheim Fellowship, the Sunday Times EFG Private Bank Award, and the Ohioana Book Award three times. Doerr lives in Boise, Idaho.



Photographs, Trailer and Biographical Information courtesy of the following sites.
YouTube
Goodreads Author Profile
Anthony Doerr Facebook Page
Author Official Website
Amazons Author Page.