Paperback:
327 pages
Genre:
Autobiography
Publisher:
Bantam Press 2014
Source:
Tywyn Public Library
First Sentences:
It's Christmas Eve 1967. Four o'clock in the afternoon. I'm waiting for Mike.
Review Quote:
the real fascination of this book – which ends in the late 1980s – is its pin-sharp close-up details
Daily Telegraph Review
Main Characters:
Alan Johnson
Setting:
England
Literary Awards:
Specsavers National Book Award for Magic FM Autobiography/Biography of the Year (2014)
My Opinion:
Please Mr Postman is a vivid and descriptive piece of social history of England during the 1970's and 1980's. For me personally there is too much information on the inner workings of the post office and trade unions. Subjects that I am not really interested in, to be honest I only read this title as it was a Book Club choice.
Précis Courtesy of Goodreads:
In July 1969, while the Rolling Stones played a free concert in Hyde Park, Alan Johnson and his young family left West London to start a new life. The Britwell Estate in Slough, apparently notorious among the locals, in fact came as a blessed relief after the tensions of Notting Hill, and the local community welcomed them with open arms. Alan had become a postman the previous year, and in order to support his growing family took on every bit of overtime he could, often working twelve-hour shifts six days a week. It was hard work, but not without its compensations - the crafty fag snatched in a country lane, the farmer's wife offering a hearty breakfast and even the mysterious lady on Glebe Road who appeared daily, topless, at her window as the postman passed by ... Please, Mister Postman paints a vivid picture of England in the 1970s, where no celebration was complete without a Party Seven of Watney's Red Barrel, smoking was the norm rather than the exception, and Sunday lunchtime was about beer, bingo and cribbage. But as Alan's life appears to be settling down and his career in the Union of Postal Workers begins to take off, his close-knit family is struck once again by tragedy ... Moving, hilarious and unforgettable, Please, Mister Postman is another astonishing book from the award-winning author of This Boy
Author Profile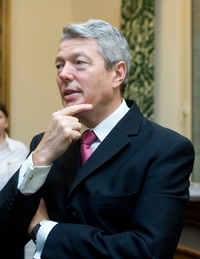 Alan Arthur Johnson (born 17 May 1950) is a British Labour Party politician who served as Home Secretary from June 2009 to May 2010. Before that, he filled a wide variety of cabinet positions in both the Blair and Brown governments, including Health Secretary and Education Secretary. Until 20 January 2011 he was Shadow Chancellor of the Exchequer. Johnson was the Member of Parliament for Hull West and Hessle since the 1997 general election. On 18 April 2017, following the announcement of the 2017 general election, Johnson said he would not be a candidate.
More details about his career can be found on
Wikipedia
Photographs, Trailer and Biographical Information courtesy of the following sites.
Amazon Author Page - Alan Johnson
Goodreads Author Profile - Alan Johnson
Alan Johnson - Wikipedia