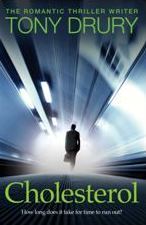 Paperback:
256 pages
Genre:
Thriller, Romantic Suspense,
Publisher:
City Fiction June 2013
Source:
City Fiction
First Sentence:
His chest was exposed and there were electrodes attached to his skin.
Main Characters:
Adrian Dexter, DCI Sarah Rudd
Setting:
London
My Opinion:
A thriller with some romance that will keep you intrigued. Once again, this prolific author has produced a novel with a story that is compelling enough to make it a worthwhile read, especially if you are a fan of his writing or romantic suspense in general.
Other Tony Drury Titles Reviewed: Megan's Game The Deal

Précis Courtesy of Goodreads:
Adrian Dexter is a corporate financier struggling through the turbulence of recession in 2012. Far away from the City of London, the love of his life waits for him in Johannesburg – as does his mortal enemy and notorious South African fraudster, Nigel de Groot. When Adrian meets the beautiful Helen Greenwood and they embark on a passionate affair, he begins to feel young again. But his new found happiness is about to be rudely interrupted. A business merger, an unexpected pregnancy, a kidnapping, a royal ambush – suddenly Adrian's life is spiralling out of control. Will DCI Sarah Rudd save the day by solving a killer's cryptic clue? And then, of course, there's those nasty fatty deposits lurking beneath the surface

Author Profile:
Tony is the author of five DCI Sarah Rudd City thrillers. In each, he draws upon his career as a London financier to expose the underworld of dark practices and shadowy characters. None, however, are able to withstand the bravery and incisive detection methods of one of the police force's bravest officers. Her juggling of career demands, husband, children and her own demons, make riveting reading.
He has now written two more novels which trace the early career of probationary police constable Sarah Whitson. In 'On Scene and Dealing' she meets her future husband Nick. In 'Journey to the Crown' she has a devastating affair with Dr Martin Redding. The final chapter jumps ahead to sample her future life as a private detective.
Tony has created an innovative series as a novella writer. Reflecting iconic cinema classics, his first is 'Lunch with Harry', which is inspired by 'Breakfast at Tiffany's'. Others to follow include 'Twelve Troubled Jurors' (echoing '12 Angry Men') and 'Forever on Thursdays' (capturing the drama of 'Brief Encounter').
He writes short-stories wherein the net proceeds go to HEART UK – The Cholesterol Charity. He is an ambassador for the charity.
Aged seventy, Tony is a follower of the wisdom of Albert Einstein: "When a man stops learning, he starts dying." He lives in Bedford with his wife Judy. They value every trip down the M1 to Watford to be with Grandson Henry.


Photographs, Trailer and Biographical Information courtesy of the following sites.
Tony Drury - Facebook
City Fiction - Facebook
Twitter - mrtonydrury
Goodreads - Author Profile
Tony Drury - Official Author Website
Amazon Author Page