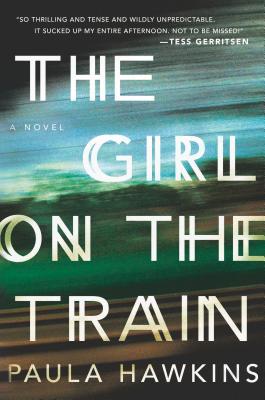 Hardback: 316 pages
Genre:Psychological thriller,
Publisher: Doubleday 2015
Source: Tywyn Public Library
First Sentence: There is a pile of clothing on the side of the train tracks.
Favourite Quote:
"Life is not a paragraph, and death is no parenthesis.
(This is a reference to an E.E. Cummings poem within the author's work)"
Review Quote:
"Really great suspense novel. Kept me up most of the night. The alcoholic narrator is dead perfect." (STEPHEN KING)
Literary Awards:
Goodreads Choice Award for Mystery & Thriller (2015)
,
Waterstones Book of the Year Nominee (2015)
My Opinion:
What a good read this was, a clever angle to tell the story from. However I did guess the result fairly early on which surprised me when I discovered I was right! An enjoyable read that I can recommend to anyone that likes a good psychological thriller, but I cannot really understand exactly why it gained so much notoriety in the media.
Since reading this novel I have seen the film and was very disappointed in the adaptation.

Précis Courtesy of Goodreads:
A début psychological thriller that will forever change the way you look at other people's lives.
Rachel takes the same commuter train every morning. Every day she rattles down the track, flashes past a stretch of cozy suburban homes, and stops at the signal that allows her to daily watch the same couple breakfasting on their deck. She's even started to feel like she knows them. "Jess and Jason," she calls them. Their life—as she sees it—is perfect. Not unlike the life she recently lost.
And then she sees something shocking. It's only a minute until the train moves on, but it's enough. Now everything's changed. Unable to keep it to herself, Rachel offers what she knows to the police, and becomes inextricably entwined in what happens next, as well as in the lives of everyone involved. Has she done more harm than good?
Compulsively readable, The Girl on the Train is an emotionally immersive, Hitchcockian thriller and an electrifying début

Audio Trailer for ' The Girl On The Train ' Courtesy of YouTube

Something a little different in this review, an audio extract rather than a video one, which may tempt you into reading the novel in full.


Author Profile
Paula Hawkins was born on August 26th 1972 in Harare, Zimbabwe. She moved to London in 1989 and has lived there ever since. A journalist for fifteen years prior to turning her hand to fiction, The Girl on the Train is her début novel.


Photographs, Trailer and Biographical Information courtesy of the following sites.
Audio Trailer - YouTube
Amazon - Author Page
Paula Hawkins - Official Website.
Goodreads - Author Profile
Paula Hawkins - Wikipedia
Twitter - Paula Hawkins