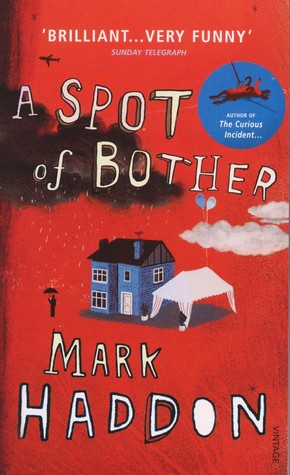 Paperback: 390 pages
Genre: Contemporary Fiction
Publisher: Vintage 2006
Source: My own bookshelf, now released via Bookcrossing
First Sentence: It began when George was trying on a black suit in Alders the week before Bob Green's funeral.
Favourite Quote: "What they failed to teach you at school was that the whole business of being human just got messier and more complicated as you got older. You could tell the truth, be polite, take everyone's feelings into consideration and still have to deal with other people's shit. At nine or ninety."
Review Quote:
"A painful, funny, humane, novel: beautifully written, addictively readable and so confident" (The Times)
Literary Awards:
Costa Book Award Nominee for Novel (2006)
My Opinion: At the heart of this family drama is an agonisingly sad story.
Précis Courtesy of Goodreads:
George Hall doesn't understand the modern obsession with talking about everything. 'The secret of contentment, George felt, lay in ignoring many things completely.' Some things in life, however, cannot be ignored.
At fifty-seven, George is settling down to a comfortable retirement, building a shed in his garden, reading historical novels, listening to a bit of light jazz. Then Katie, his tempestuous daughter, announces that she is getting remarried, to Ray. Her family is not pleased - as her brother Jamie observes, Ray has 'strangler's hands'. Katie can't decide if she loves Ray, or loves the wonderful way he has with her son Jacob, and her mother Jean is a bit put out by all the planning and arguing the wedding has occasioned, which get in the way of her quite fulfilling late-life affair with one of her husband's former colleagues. And the tidy and pleasant life Jamie has created crumbles when he fails to invite his lover, Tony, to the dreaded nuptials.
Unnoticed in the uproar, George discovers a sinister lesion on his hip, and quietly begins to lose his mind.
The way these damaged people fall apart - and come together - as a family is the true subject of Mark Haddon's disturbing yet very funny portrait of a dignified man trying to go insane politely.
Author Profile:
Mark Haddon was born in Northampton, England on September 26, 1962, he is an author, illustrator and screenwriter who has written fifteen books for children and won two BAFTAs. Educated at Merton College, Oxford, Uppingham School, University of Edinburgh and the University of Oxford. At Oxford he studied English after which, he was employed in several different occupations. One included working with people with disabilities, and another included creating illustrations and cartoons for magazines and newspapers. He lived in Boston, Massachusetts for a year with his wife until they moved back to England. Then, Mark took up painting and selling abstract art. In 1987, Haddon wrote his first children's book, Gilbert's Gobstopper. This was followed by many other children's books, which were often self-illustrated.
It was not until 2003 that his best selling novel The Curious Incident of the Dog in the Night-time, was published, it won seventeen literary prizes, including the Whitbread Award. His poetry collection, The Talking Horse and the Sad Girl and the Village Under the Sea, was published by Picador in 2005, and his last novel, The Red House, was published by Jonathan Cape in 2012. He lives in Oxford with his wife Dr Sos Eltis a Fellow and Tutor in English of Brasenose College, Oxford.
The biographical information and photo used in this post are with thanks to the following websites, where you can also find out more information about the author and his writing.
Amazon Author Page
Mark Haddon - Goodreads Profile
Author's Official Website