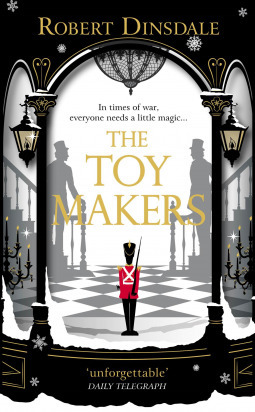 Hardback: 468 pages
Genre: Literary Fiction
Publisher: Del Rey, Ebury Publishing, Penguin Group.
Source: Tywyn Public Library
First Sentence: The Emporium opens with the first frost of winter.
Favourite Quote: page 356 - This Emporium of ours, it crystallises childhood. It makes us long for those days, when all the world was a toy and all of life was the adventure you had when you closed your eyes and made it happen.
Review Quote: "There is magic at the heart of The Toymakers, a glittery inventiveness that shimmers through the dark corners of a story about love, war and sibling rivalry...Robert Dinsdale's imagined toys are truly glorious...a gripping, moving story." (Sunday Express)

Setting: Papa Jack's Emporium, Iron Duke Mews, London.
My Opinion: This is an imaginative, historical love story that revolves around the magic of childhood. I must admit that I would never have chosen to read this had it not been a book club choice. Described by some as a 'Marmite' title, love or hate. In my case feelings for the novel were not that strong, it was just a fascinating read which I enjoyed more than I expected to considering the magical aspects. Very cleverly written the novel makes one realise how important the innocence of childhood actually is in our lives, particularly when one has to face many dark and disturbing things in life. Even if like me you do not really like fairy tales and magic I recommend you read this as it is a beautifully written story of family dramas showing us where the access to toys and childhood magic can balance out the terrible atrocities that occur in the real world.


Précis Courtesy of Goodreads:

Do you remember when you believed in magic?

The Emporium opens with the first frost of winter. It is the same every year. Across the city, when children wake to see ferns of white stretched across their windows, or walk to school to hear ice crackling underfoot, the whispers begin: the Emporium is open!

It is 1917, and London has spent years in the shadow of the First World War. In the heart of Mayfair, though, there is a place of hope. A place where children's dreams can come true, where the impossible becomes possible – that place is Papa Jack's Toy Emporium.

For years Papa Jack has created and sold his famous magical toys: hobby horses, patchwork dogs and bears that seem alive, toy boxes bigger on the inside than out, 'instant trees' that sprout from boxes, tin soldiers that can fight battles on their own. Now his sons, Kaspar and Emil, are just old enough to join the family trade. Into this family comes a young Cathy Wray – homeless and vulnerable. The Emporium takes her in, makes her one of its own. But Cathy is about to discover that while all toy shops are places of wonder, only one is truly magical...


Robert Dinsdale was born in 1981 in North Yorkshire where he grew up. He currently lives in Leigh-on-Sea, Essex with his daughter, where between school runs he variously tramps along the seafront, sits hunched over a computer screen, or is to be found loitering in the local library.
He is the author of The Harrowing, Little Exiles, Gingerbread and The Toy Makers.


Photographs and Biographical Information courtesy of the following sites.
Amazon Author Page
Goodreads - Author Profile
Author Official Website