Paperback: 286 pages
Genre: Christian Fiction
Publisher: Hodder and Stoughton 2013
Source: Tywyn Public Library
First Sentences: Some years in Portland, Oregon, winter is a bully, spitting sleet and spewing snow in fits and starts as it violently wrestles days from spring, claiming some archaic right to remain king of the seasons-ultimately the vain attempt of another pretender.
Favourite Quote:

"There is always risk in relationships, but bottom line? The world has no meaning apart from relationships. Some are just messier than others, some are seasonal, others are difficult, and a few are easy, but every one of them is important."


My Opinion: Comforting at the time of reading.
My Review :
Prior to being given this book to read for one of the Book Clubs I belong to I had never heard of this author and my initial reaction was that this was a book I very much doubt I would have read from choice.
Like many of us I struggle to understand the world and the meaning of life, so when I first read the blurb for this novel I felt it may be a comforting read. Indeed it was but only at the time of reading, not in a life changing way. A story of relationships, participation and the choices we make at the crossroads in our lives.
A very complicated story but simply put it is about a businessman who after being involved in an accident is left in a coma. The protagonist Tony is broken and bitter after the loss of a loved one, he does not really have any faith. Even without a strong belief in God, he finds himself not just meeting him but carrying out a mission on his behalf. Mysteriously inside other bodies, yes they know he is there, he is able to examine his life in retrospect. Difficult to comprehend but then so is life, The one thing that slightly concerned me is that maybe some devoted Christians may well find this 'possession' offensive.
A Christian book but absolutely no need to be a believer to benefit from reading. The author writes (

obviously

his own beliefs) about life and death in a

compassionate

way.
You really do need to read this for yourself!
Précis: Courtesy of Goodreads:
Anthony Spencer is egotistical, proud of being a self-made business success at the peak of his game, even though the cost of winning was painfully high. A cerebral hemorrhage leaves Tony comatose in a hospital ICU. He 'awakens' to find himself in a surreal world, a 'living' landscape that mirrors dimensions of his earthly life, from the beautiful to the corrupt. It is here that he has vivid interactions with others he assumes are projections of his own subconscious, but whose directions he follows nonetheless with the possibility that they might lead to authenticity and perhaps, redemption. The adventure draws Tony into deep relational entanglements where he is able to 'see' through the literal eyes and experiences of others, but is "blind" to the consequences of hiding his personal agenda and loss that emerge to war against the processes of healing and trust. Will this unexpected coalescing of events cause Tony to examine his life and realize he built a house of cards on the poisoned grounds of a broken heart? Will he also have the courage to make a critical choice that can undo a major injustice he set in motion before falling into a coma?
YouTube : Official Book Trailer
Author Profile: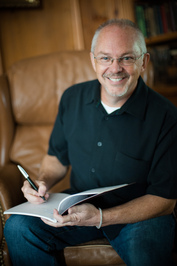 William Paul Young was born in Grande Prairie, Alberta, Canada on May 11th 1955. The eldest of four children but the majority of his first decade was lived with his missionary parents in the highlands of Netherlands New Guinea (West Papua), among the Dani, a technologically stone age tribal people. These became his family and as the first white child and outsider who ever spoke their language, he was granted unusual access into their culture and community. An extended biography can be read
here
The biographical information and photo used in this post are with thanks to the following websites, where you can also find more information about the author and his writing.
YouTube - Book Trailer
Goodreads - Author Profile
Paul Young - Author's Official Website
Facebook - William Paul Young
Wikipedia Profile
Google Search Page