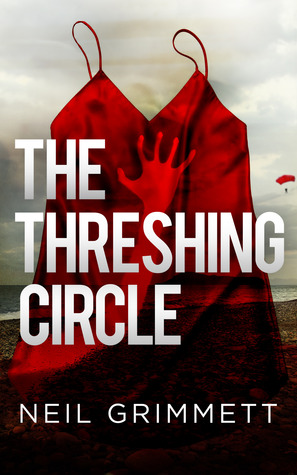 eBook:
1501 KB
Genre: Thriller
Publisher: Grimpen Publications
(19 Feb 2014)
Source: Loaned from Amazon as part of my Amazon Prime Membership.
First Sentence:
Kapetanios Michaelis crept through the village, blending with shadows, listening to sleepers snoring, dreamers murmuring, another young widow weeping.
Favourite Quote:
'
They're like the pieces in a mosaic
:
until they're all set in place
,
there's no clear picture
.'
My Opinion:
T
angled and absorbing tale of revenge.
This novel is well outside my normal preferred genres, but I do like to step outside my comfort zone from time to time. In fact I do read thrillers but normally psychological ones. How shall I describe this thriller, well it is very intense with evil bloody scenes and sexual violence, you have been warned. Everything the author has written is relevant to the storyline though as this complex mystery is set in Crete, a country that has a long history of occupation by other nations. It is this history that fuels the tradition of vendettas that last for generations. One such family feud is at the root of this tangled and absorbing tale of revenge.
In May 1942 during WWII a dreadful crime was committed on the island of Crete and sixty years later a young couple arrive on the island determined to find out what really happened all those years ago. The problem is they disappear, local Scottish ex-pat Kirsty and local Barba Yiorgos form an unlikely alliance in a hazardous attempt to find them. Their search is full of danger, mysterious happenings and fascinating and evil characters. Romantic myths and violence abound before some choices have to be made if this mystery has a chance of coming to a satisfactory conclusion. Immerse yourself in this powerful mystery if you want to learn what happened, in the wilds of Crete.
Set in a beautiful location, with a mystery that will hold your attention right to the final pages I recommend this to any one that enjoys a well written and intense thriller.
Author Profile
Neil Grimmett was born in Birmingham and after having travelled extensively in Greece and Spain now lives in Somerset with his wife Lisa. the Threshing Circle is his first full length novel to be published. He
has had over eighty five short stories published, by among others: London Magazine, Stand, Panurge, Iron, Ambit, Postscripts Magazine, Pretext etc. Australia, Quadrant, South Africa, New Contrast. Plus stories in the leading journals of Singapore, India, France, Canada, and the USA, where he has appeared in Fiction, The Yale Review, DoubleTake, The southern Humanities Review, Green Mountains Review, Descant, The Southern Review, West Branch and Ellery Queen Mystery Magazine. He has appeared online in Blackbird, Plum Ruby Review, Tatlin's Tower, Web Del Sol, In Posse Review, m.a.g., Word Riot, Blue Moon Review, 3AM, Gangway, Eclectica, The Cortland Review, Segue, The Dublin Quarterly , Ducts, Sugar Mule, Mysterical E, Thuglit and over thirty others. His stories have also appeared in the anthologies: ENGLAND CALLING, BOOK OF VOICES and Italy's ISBN's Top International Stories. He has made the storySouth Million Writers Notable Short Story list for the last three years. In addition, he has won the Write On poetry award, 7 Oppenheim John Downes Awards, 5 major British Arts Council Awards, a Royal Society of Authors award and was just awarded a major grant from the Royal Literary Fund.
The biographical information and photo used in this post are with thanks to the following websites, where you can also find more information about the author and his writing.
Goodreads - Author Profile
Neil Grimmett - Twitter
Author's Official Website
Neil Grimmett - Amazon Author Profile